Do you have big boobs and avoid working out because of the constant pain? Do you stick to walking, because running is just not an option with your boob size? Or do you find yourself at the gym holding the girls down during high impact exercises?
I recently saw a study in Journal of Physical Activity and Health of 249 women that showed out of nine options, boobs were the number four reason keeping women from working out – behind energy, time and health. These were the top responses "I can't find the right sports bra" and "I am embarrassed by excessive breast movement".
I totally get it! I know exactly how that feels and I'm here to tell you that the days of modifying your workouts (and life) just because you have big boobs, are OVER! Here's my story, and my secret to managing the girls and doing any workouts you want – including the workouts on my blog that involve high impact exercises like skipping or jumping!
From the age of 12, I was wearing a B cup bra. As I got older, my bra size continued to increase and now I have mastered working out with naturally large boobs.
Discovering the best solution began when I was training and racing at an elite level for Triathlon. It meant that I learned super quickly how to minimise bounce and pain. I started out wearing 2-3 crop tops, a size or two smaller than I was, and this kept them under control during workouts although this method didn't last long… Boy was I envious of the girls that keep active in just a full piece swimwear without anything else underneath. Although my first attempt solved the bouncing and pain in the short term, it didn't stop the tightness in my chest, back, neck and shoulders. Some days it felt hard to breathe because the tops were far too small and tight.
I retired as an athlete, and began my career as a Personal Trainer. These days my cup size varies throughout the month from DD-G and occasionally I'll wear a cross back underwire bra with one crop top over that. Sometimes I'll also wear singlets with inbuilt crops (on top of the other two bras), for extra support and to keep them under control. But wearing 2-3 bras can still damage the internal breast tissue and is nowhere near as effective as my miracle sports bra.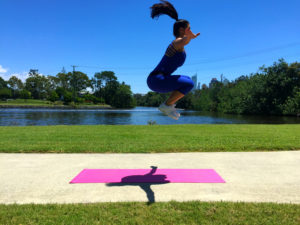 Three years ago, I found the answer to all my prayers!! The best bra shop and the best sports bras ever!
The staff fitted me with a bra from Panache's sport range (the under wire one) and asked me to jump and run on the spot. To my surprise, no pain! I couldn't feel them move at all, AND this bra was cheaper than my casual bras. My life was changed forever!!
This bra fits perfectly and also has mesh paneling down the cleavage area to minimise that uncomfortable feeling of boob sweat. There is also an option to join the straps together at the back for extra support, or to hide the straps under my racer back singlet – what an amazing feature!
I love these sports bras so much, I even wear them casually and when I'm not working out. If you have the same problems I had, you need to check these out!! Find a stockist near you:
http://www.panache-lingerie.com/au/products/list/panache-sport
Once you've got your new sports bra and you're ready to feel fitter and healthier, head back to my blog for workouts, recipes and fit tips!